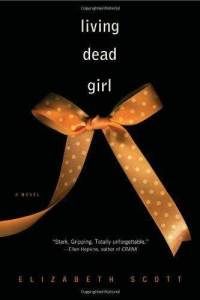 - Fans of Scott's YA romances Perfect You or Bloom may be unprepared for the unrelieved terror within this chilling novel, about a 15-year-old girl who has spent the last five years being abused by a kidnapper named Ray and is kept powerless by Ray's promise to harm her family if she makes one false move. The narrator knows she is the second of the girls Ray has abducted and renamed Alice; Ray killed the first when she outgrew her childlike body at 15, and now Alice half-hopes her own demise is approaching (I think of the knife in the kitchen, of the bridges I've seen from the bus... but the thing about hearts is that they always want to keep beating). Ray, however, has an even more sinister plan: he orders Alice to find a new girl, then train her to Ray's tastes. -
My Review:
A friend of mine told me about this book, one I pass while book hunting every now and then, and I'm glad that she did! (since the book I have does not have that great of a cover)
I've read Scott's romance books,
Perfect You
and
Bloom
, but they did not grab me like
Living Dead Girl
did and it had me until the very end.
If you do not care for subjects such as abduction this is not the book for you, it is able to get to the core of the subject and make you care for the main character right away.
5/5 Stars